Here's the thing with places that have Udipi (or Udupi or some variation thereof) in their names, especially if they position themselves as purveyors of pure vegetarian South Indian food. Since there is no Central Authority that performs a rigorous 64-point check by a team of experts before giving out an Udipi certification, this is pretty much a self appellation, and is no indication of the quality of food served there. Therefore, any restaurant I come across newly that has the word Udipi in its name is automatically viewed with much suspicion. This careful approach is the result of being scarred by numerous charlatanly fellows who have put the name Udipi in their names just by dint of dumping a ton of sugar in every savory dish they flog to unsuspecting passersby. Now I have become an extremely suspecting passerby – I pass by any new Udipi place with a lot of suspicion for a reasonably unreasonable amount of time before I venture inside and perform the ultimate test of Udipi-ness – order a masala dosai and a coffee.
Now that I have rambled on enough about Udipi restaurants and my automatic suspicion of them, let me get to the one I'm writing about today. Kondapur, while being an excellent location in many senses, is not exactly a bastion of decent South Indian vegetarian food. While you can get masalas, curries, rotis and biryanis to your heart's content (there's even a restaurant called MRCB – which actually stands for the abovementioned items!), when it comes to idlis, vadais, dosais and sambhar, you might as well be in Outer Mongolia. So, it was quite a revolution that Udipi's Upahar opened up a branch here. It has been crowded since day one, and that usually means me giving it a wide berth – I do not like waiting for my food a second longer than I have to – my hanger is legendary!
This past Sunday, I was presented with the golden opportunity to try out the place – I was on my own for breakfast (a happy accident resulting from a last-minute ditch and me forgetting that my cook could actually have made me breakfast, to Vidya's extreme annoyance), and I had enough time to do a detailed investigation of Udipi's Upahar. As I walked in, it was immediately clear they were doing something right – a mini riot was going on near the self service counter, as a crowd of enthusiastic breakfast-eaters milled about trying to get their orders. What was crazy was that most of them had a happy look on their faces – clearly they were having fun while waiting for their food.
I walked to the counter and placed my order – a plate of idli-vada, a masala dosai and a coffee. This is the perfect order if you want to test a South Indian vegetarian place – it allows you to judge very quickly if they actually have a South India cook. The chap at the cash counter was really fast, confident and wrong. He was very enthusiastic, but rather short on listening skills. He took three tries to get my order correct in his machine. Thankfully, someone had drilled into him the importance of repeating the order to the customer, and that was how I knew the number of attempts he had to make.
Armed with three different receipts, I dived into the mosh pit that was the delivery counter and started waving wildly at the three fellows trying to keep it sane. To be fair, they were doing quite a creditable job, and were extremely quick. The hold up was happening because of people who forgot to pick up their orders completely. Since my first receipt was for idli-vada, which were ready made, I was in and out very quickly – the receipt was snatched from my hand and the order yelled out. I was taken aback at the quickness with which it was assembled on a plate – one of the fellows yelled out the order, and as he yelled it out another was assembling the idli and vadai, while yet another had loaded another part of the plate with a dollop of solid chutney, and two bowls. The yeller, in the meantime had grabbed two ladles, one with sambar and another with liquid chutney, and sloshed them into the bowls, and the plate was thrust at me. The entire operation must have taken around 18.2 seconds, and I got some idea of what it feels like being in a Ferrari pitstop.
I retired to one of the stand-and-eat stainless steel tables, where the food passed every test. The idli was soft and fluffy without being insubstantial. The vadai was crunchy on the outside and soft on the inside, and had the right amount of sponginess to soak up the sambar. The sambar (aah the sambar – the shibboleth of a South India cook!) was actual Udipi sambar – which means it was payasam masquerading as a savory dish. Nevertheless, it was authentic, well balanced, and even managed to make me eat a few spoonfuls (I am really not fond of sweet sambar). The chutneys were both very well made – both in terms of balanced flavors and texture. They definitely have a South Indian cook.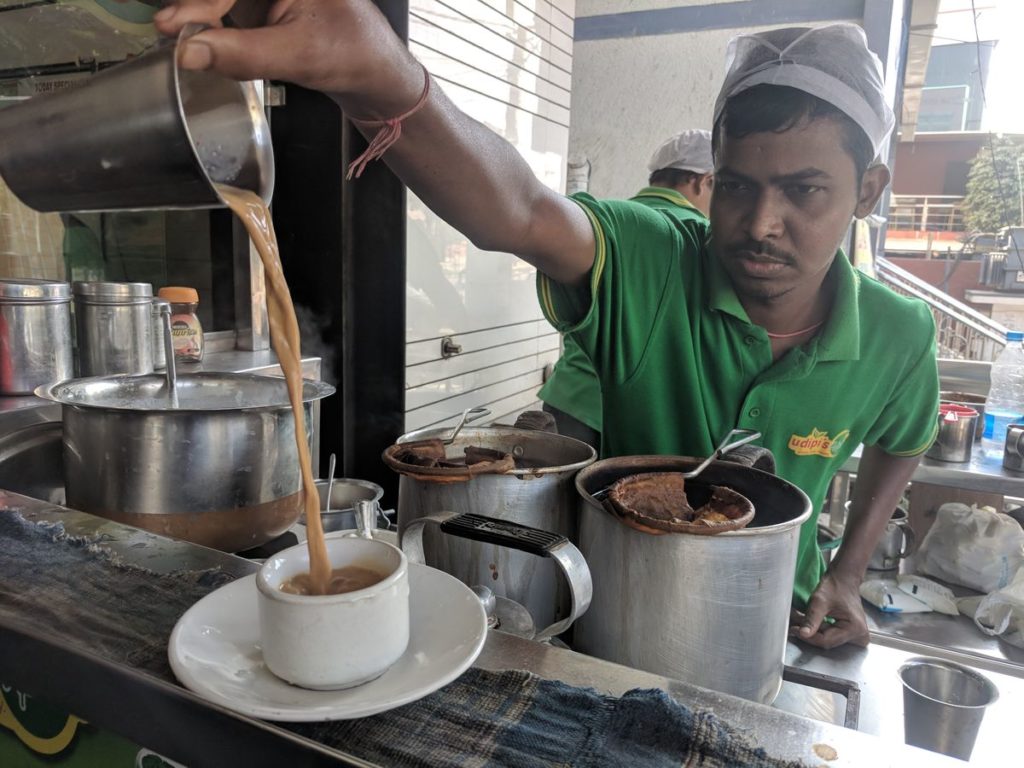 Once I had polished off the idli and vadai, I had to go back to pick up the masala dosai. However, I had earlier spotted a coffee filter in the coffee counter – another sign of authenticity. Since I am a sucker for good filter coffee, and the quantity of coffee you get at these places is ridiculously small, I decided I'd have one now and get another to finish off. So I went up to the coffee counter, and witnessed the assembling of my cup of filter coffee – what a joy it is to behold! The fellow put the decoction into the cup, put it on the counter in front of me, and poured out the frothing hot milk into it! Up rose an aromatic frothy coffee that was just right – the color, aroma and taste were perfect! The right amount of chicory gave it a bit of a bitter edge. This place was turning out to be a winner.
Once more, I went into the breach – this time for my masala dosai. The mosh pit was less moshy, and I got to actually stand by the counter and watch the folks in action for a bit. As I paid attention to their conversation, I realized all the fellows behind the counter were Odia. They were quite perfectly coordinated, and worked like a well-oiled machine. My masala dosai appeared in record time, and back I went to the steel table. The dosai was an all round winner. Crisp where it had to be, soft where it had to be, perfectly fermented batter, the right amount of oil with a potato filling that was neither overpoweringly flavored nor too much in quantity. I had no complaints as I demolished it quickly.
After this, I resisted the urge to order another dosai, and just got myself a filter coffee. This time, it was the turn of the cash counter to become a mosh pit, and again, I successfully navigated it without having to bodysurf. My secret was holding the right amount of change in my hand and sticking it in front of the cashier's face – it was bait he could not refuse!
I chose to relish my second coffee at one of the communal seats – I shared mine with a couple and another chap – which are another feature of these in and out eat-quick places. Since I was sitting down, I took my time with the coffee, which was every bit as good as its predecessor.
I walked out with a wide grin on my face – Kondapur has definitely arrived in terms of having South India vegetarian options, though I wouldn't go so far as to call it a bastion yet. Udipi Upahar is a good option if you want good, decently priced South Indian vegetarian fare.
I definitely recommend the idli, vadai, masala dosai, and as much filter coffee as you can handle!